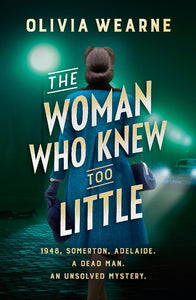 December, 1948. Officer Kitty Wheeler is a member of the Women Police, responsible for 'upholding the moral virtue' of Adelaide's at times unruly and amorous citizens. Patrolling Somerton beach one night, Kitty and her partner spot a man leaning against the sea wall, apparently drunk. It's late, they're tired, and they leave him to sleep it off ...

The man is dead, his identity unknown, and Kitty has missed a career-making opportunity. In the following months, the case of the Somerton Man grips first Adelaide, then Australia, as bizarre clues point towards international espionage, Eastern mysticism or salacious scandal. Kitty, preoccupied with the case, joins the investigation wherever she can, although the men are firmly in charge. Meanwhile, she must decide whether she wants husband and family, or a career - in 1940s Australia, she can't have both. Her boyfriend Peter wants to pop the question, but Kitty is keener on solving the case ...

Olivia Wearne has threaded Kitty's story into the real-life 1940s mystery of the Somerton Man. This intriguing, sharply observed and wholly engaging novel explores the life and crimes of a city and its people, few of whom are without their secrets.