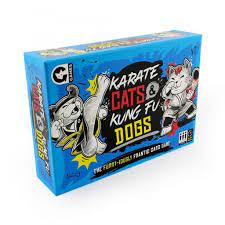 It's a dog-eat-dog world in this furiously fast party game.

Keep a keen eye on the cards in play and use your cat-like reflexes to chop the matching cards faster than your opponents can.

The first player to get rid of all their cards is the winner, but you'll have to use all your animal instincts to come out as the top dog or coolest cat!

Age Range
8+ years

A Furry-iously Frantic Silly Card Game
Karate Cats & Kung Fu Dogs is a fast-paced quick-play card game full of martial arts mayhem and silliness. Players must race to get rid of all their cards, and the last player to have cards in their hand is the loser!

Fun Family Game For Ages 8+ Years
This fun card game is great for children aged 8 years and over, so is perfect for family games nights! A great way to keep the kids entertained, this travel-sized action party game can be played anywhere.

Are Your Reflexes Quick Enough
Think quick, and act fast! Take turns playing a card from your hand, whilst keeping an eye on everyone's discard pile. If you see any three matching cards you must be the first to karate chop the matching coaster.