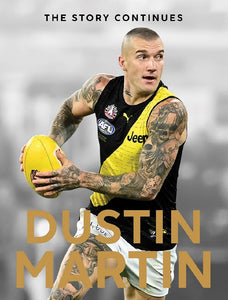 The Story Continues: Dustin Martin is the all new, up-to-date and illustrated companion to Dustin (Dusty) Martin's phenomenal football career.

In this fully authorised edition, you will be able to experience Dusty's rise to the very top of AFL football and his position in the pantheon of great Australian players. Find out all about Dusty's childhood, his career at the Richmond Football Club, and behind the scenes stories from those he spends his time with. From the President to the trainers, this book will reveal the high esteem in which he is held at the club and in the wider world of AFL football.

The Story Continues: Dustin Martin is the must have, must give and must read footy book of the year! Richmond fans as well as fans across the code will discover the true Dustin Martin revealed through words and stunning pictures.