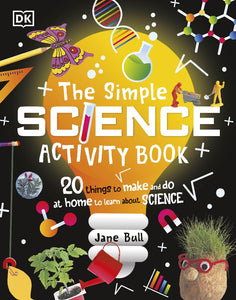 Discover key scientific concepts with more than 20 fun and simple home craft projects to try

Little crafters will become little scientists as they explore, experiment, make, and create their way through every STEAM project.

This hands-on crafty science book introduces inquisitive children to the wonders of science through craft projects with everyday objects. Award winning author Jane Bull combines arty, craft, and cooking activities with solid scientific learning, showing children that science, technology, engineering, art, and maths are all around us - and in everything we make and do!

This book contains more than 20 fun-filled projects, each accompanied by a 'What's the science?' section explaining how it works. Children can learn how to make a toy raft and discover what makes their boat float, or how to create an ice sculpture and learn about the changing states of solids and liquids. With The Simple Science Activity Book, difficult concepts like buoyancy, gravity, and aerodynamics become meaningful and accessible to young children through play. They'll discover the world around them like they have never seen it before!