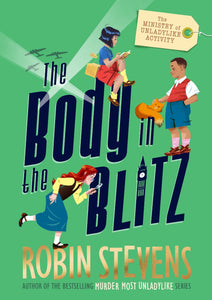 The second thrilling Ministry of Unladylike Activity mystery, from the number-one-bestselling author of Murder Most Unladylike.

The second thrilling and unputdownable mystery starring a new generation of the Detective Society, from the million-copy-bestselling author of Murder Most Unladylike- Robin Stevens.

March 1941. Britain is at war, and a secret agency called the Ministry of Unladylike Activity is training up children as spies - because grown-ups always underestimate them. Enter May, Eric and Nuala- courageous, smart, and the Ministry's newest recruits.

May's big sister Hazel has arranged for them to stay on a quiet street close to the Ministry, home to an unlikely collection of people thrown together by the war. And it is in the basement of the bombed-out house at the end of that street that they discover something mysterious. Something that was not there when the Blitz wreckage was first combed through. Something that has been placed there recently. A body...

Could this be the missing Ministry spy that Daisy Wells is on a dangerous mission in France to find? Or could it be someone else - someone a resident of the street wanted silenced . . . ?