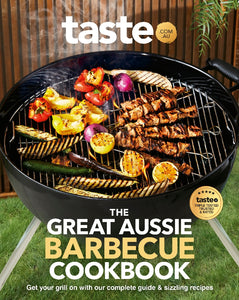 Legendary recipes for families and year-round entertaining.
Nothing brings our nation together like a good barbecue. It's no lie we are at our happiest when we are charring, searing or roasting anything from meat and seafood to vegies and fruit.
In this extensive cookbook, you will experience the thrill of the grill as never before as the taste food team introduces you to a range of exciting barbecue dishes to impress guests or feed the family in a flash.
Roast a whole chicken, steam fish, sear the perfect steak, grill marinated skewers and even char a salad - if it's any good under the hood, you'll find a recipe right here.
You can almost taste these...
BBQ brisket with maple bourbon glaze


Japanese T-Bone steaks


Grilled jalapeno and lime chicken breast


Five spice roast pork


Whole barbecue Thai red curry snapper


Prawn and chorizo skewers


Charred cauliflower steaks with chermoula


Barbecue nectarine and chicken caprese salad


Along the way you will pick up tongfuls of tips and master rubs, sauces and marinades to help your chosen protein and vegies sing with flavour. Every one of these recipes is tried and tested, plated and rated, guaranteeing your great Aussie barbecues are always a huge success and the envy of the neighbourhood.