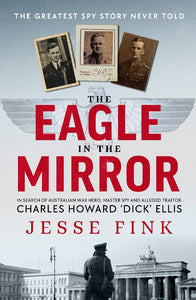 Part biography, part forensic jigsaw puzzle, part cold-case detective investigation, The Eagle in the Mirror is the astonishing untold story of an Australian-born intelligence officer accused by some espionage experts of being the traitor of the century- Charles Howard 'Dick' Ellis.

The longest serving spy for the British Secret Intelligence Service (MI6), Ellis helped set up the Office of Strategic Services (OSS), now known as the Central Intelligence Agency (CIA), as well as the Australian Secret Intelligence Service (ASIS). At one point in the 1940s he was considered one of the top three secret agents in MI6 and controlled its activities, as one journalist put it, 'for half the world'.

But in the 1980s journalist Chapman Pincher and retired MI5 intelligence officer Peter 'Spycatcher' Wright posthumously accused Ellis of having operated as a 'triple agent' for Nazi Germany and the Soviet Union. In 1965, while under interrogation in London, Ellis had allegedly made a partial confession that he had worked for the Nazis. The scope of Ellis's purported betrayal was considered even worse than notorious British traitor and double agent Kim Philby.

However, Pincher's and Wright's accusations against Ellis have never been comprehensively proven. Was Ellis guilty or was an innocent man framed? By confessing did he take the fall for someone else? Or had the intelligence agencies of the United States, the United Kingdom and Australia been fatally compromised by a 'super mole'?

Internationally bestselling author Jesse Fink attempts to find out the truth once and for all. The Eagle in the Mirror is not just a long-overdue biography of the unheralded Dick Ellis; it's a gripping real-life international whodunit.