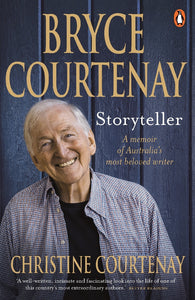 The long-awaited memoir of the late Bryce Courtenay - Australia's bestselling author - as told by his wife, Christine Courtenay.

Bryce Courtenay was a born storyteller. The success of his extraordinary debut The Power of One made publishing history, and in the years that followed Bryce continued to entertain and inspire thousands of devoted readers with his sweeping epics and larger-than-life characters who embody the strength and triumph of the human condition.
In Bryce Courtenay- Storyteller, Christine Courtenay shares the remarkable story of her late husband's life, which formed the backdrop to his storytelling. From his humble beginnings in Africa to his dazzling success in advertising and as a bestselling author, Bryce's extraordinary, rags-to-riches life story reads like one of his epic novels.
Christine uncovers the events that shaped the man behind the stories - a man complex, driven and unfailingly positive, who never lost sight of his childhood dream to be a writer. Candid, intimate and insightful, Bryce Courtenay- Storyteller is a fascinating, loving tribute to the life and work of Australia's most beloved and enigmatic writer.