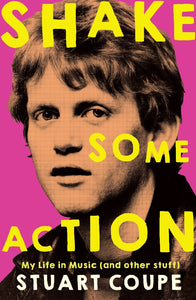 The story of how a gangly, music-obsessed kid from Tassie did everything and met everyone - Shake Some Action is a rip-snorting rock 'n' roll ride through a life of power and passion.


For over four decades, Stuart Coupe has been at the heart of the Australian music scene, experiencing the giddy highs, crushing lows and everything in between that comes along with a life lived in the creative fast lane.

When he wasn't writing a weekly music column in the Sun-Herald or contributing to the likes of RAM and dozens of other publications, he was manager of Hoodoo Gurus and Paul Kelly. When he wasn't trekking to Paris to interview Springsteen or consuming way too much cocaine before interviewing Bob Dylan, he was writing books about the burgeoning New Wave music movement, a biography of Michael Gudinski or collaborating with Tex Perkins. When he wasn't organising tours and publicity for a string of overseas acts, including Gary Glitter, Harry Dean Stanton, The Cramps and The Clash, he was establishing ground-breaking indie record labels, or dialling into a generation as the music critic for Dolly (or infuriating them by labelling Duran Duran 'Yawn Yawn').

Sometimes, he was doing most of the above all at once. Always at full throttle. Always with an unwavering belief in the artist in the art, in the next album, the next set, the next project, the next big thing.

Shake Some Action tells the story of Coupe's remarkable life as a music obsessive, one that started in Launceston, Tasmania, but would take him around the world and back, and into the orbit of some of the greatest artists of our time. It's a book about fandom and burning to find the perfect words to pass that love on to others - and the myriad adventures, misadventures and personal costs that come with staying true.

Get ready to kick out the jams!