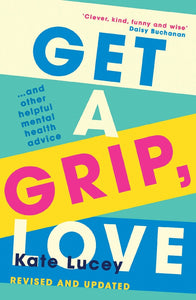 'Clever, kind, funny and wise, this book is an uplifting and useful addition to your self help library.' Daisy Buchanan, How to Be a Grown-Up

We're all talking about mental health a lot more now than we were ten years ago, which is great . . . isn't it?
Kate Lucey has been 'officially' depressed (as in, diagnosed) for six years. In that time she's been subjected to reams of well-meaning but ultimately bad advice that misunderstands what it means to live with a mental illness.

In this funny, honest, no-nonsense guide to mental health, Kate draws on the expertise of psychologists and therapists, explains how she's learnt to best manage her mental state and disproves the many myths that surround treating depression. Covering the effects of exercise, medication, friendship groups, work, alcohol and more, this book will validate your feelings and certainly won't tell you to Get a Grip, Love.