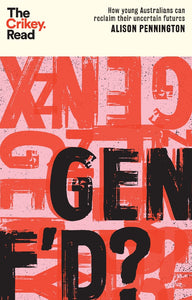 In Gen F'd? economist Alison Pennington shows how the most educated generation in Australia's history stands to be the first generation worse off than their parents, and gives young people the tools to create the change we need. This is the fifth book in The Crikey Read series from Crikey and Hardie Grant Books.

Young people today are digital natives, encouraged to market their own uniqueness and success online, amid out-dated advice from parents and politicians: work hard and you'll get ahead. But Australia's celebrated 'fair go' has disintegrated, with millions of young people stuck on the rat-wheel of insecure work and crammed into share houses paying off boomers' mortgages.

Against the backdrop of global warming and pandemic, young people have inherited a dysfunctional economy that consumes their futures. Gen F'd? plots a path forward for Australians to reactivate our democracy and create a new economy that provides hope and opportunity for all.

From Crikey and Hardie Grant Books, The Crikey Read is a series that brings an unflinching and truly independent eye to the issues of the day in Australia and the world.