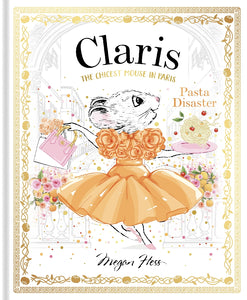 The seventh delightful rhyming tale about courage, compassion and a stylish little mouse, from beloved children's author Megan Hess.??
Ciao! Claris the mouse and her best friend Monsieur are in Italy! ?But after a pasta disaster at their favourite bistro, Claris meets a seamstress who needs her help. Can she make the perfect dress in time for the Venice Film Festival and find Monsieur again?
The best-selling Claris series follows an adorable mouse who moves to Paris to follow her fashion dreams, for fans of Eloise and Olivia.


Destined to delight fashion-obsessed readers of all ages!


A half a million Claris books in print!