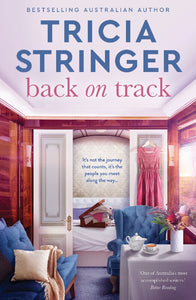 Bestselling author and voice of Australian storytelling Tricia Stringer tackles troubled relationships, ageism, and love old and new in this warm, funny, uplifting story of colleagues and unlikely travel companions thrown together on an astonishing (and revealing) train trip across Australia.
Ketty Clift's couture dressmaking business is thriving but the same can't be said for her staff. Lately, cracks have appeared in the team's harmony, testing relationships and causing issues with customers. Worse, the rumour that Ketty has lost her touch is circulating. So when Ketty's old friend Carlos suggests a holiday by train - on the iconic Ghan, no less - Ketty decides to take her surprised staff with her in the hope of fixing what ails them.
But it's not turning out to be the cure-all Ketty had hoped for. Her protective second-in-command, Judith, doubts Carlos's intentions and sows suspicion in Ketty's mind. Her younger staff members, Birgit and Lacey, are beset by relationship disasters and financial worries, whereas invaluable employee Ning is under pressure from her family to retire, and seamstress Tien is terrified of everything outside her comfort zone - especially the outback.
Each new stop on the way, and the surprising behaviour of some of the other passengers, affects the group and reveals something more about each of them. As the train pulls deeper into the mesmerising outback, matters seem set to come to a disturbing crescendo.
Ketty must sidestep the drama, reunite her troubled workers and save her business and relationships. But will her transformative magic work to bring them all back on track?