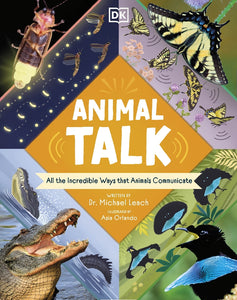 A book about the many clever and creative ways that animals communicate with each other, from head-turning howls to jaw-dropping dances

For many animals, communicating is as important to their life chances as finding food and water. This book explores the variety of innovative ways animals "talk" to each other. Whether it is releasing a cloud of ink to confuse, roaring to intimidate, dancing to attract a mate or howling to locate one another, the range of messaging methods in the natural world is quite astonishing (and sometimes quite disgusting!).

Animal Talk is a brilliant introduction to ingenious communication strategies in the natural world. Meet birds and spiders who dance to attract a mate, vultures that are sick on their own food to put off other animals, lions who roar at rival prides to test out their strength, and many more. Perfect for children aged 7-9, the book is filled with intriguing illustrations and spectacular photographs of the amazing, obscure, and unusual. You'll never look at nature the same way again!