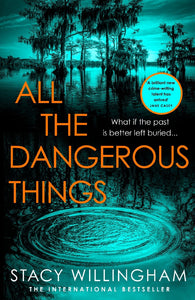 From the author of New York Times bestseller, A Flicker in the Dark, comes an atmospheric new thriller about one woman's search for the truth

'Pacey and sinister, ALL THE DANGEROUS THINGS has a palpable tension that keeps the pages turning.' Sunday Times and internationally bestselling author, Karin Slaughter

'Brilliant! … I had to finish this marvelous thriller in one sitting!' Jeffery Deaver, author of Hunting Time

'A sensational thriller… Dark, engrossing and atmospheric… sublime tension. EXCELLENT' Will Dean, author of the Last Thing to Burn

'Packed full of twists and turns, I couldn't stop frantically turning the pages. Stacy is a must-read author" Sarah Pearse, author of The Sanitorium

Today is day 364.
364 days since my last night of sleep.
364 days since my son, Mason, was taken from his bed.
The police have stopped looking. My husband wants me to move on.
But I need to keep his story alive.
Someone knows what happened to my son.
And I'm going to find them.

It's been a year since Isabelle Drake's son, Mason, disappeared from his bedroom. Since then, she hasn't had a full night of sleep. Everyone else has moved on – the detectives, the press, her husband – but she can't rest until she knows the truth.

Teaming up with true crime podcaster Waylon Spencer, Isabelle investigates her son's case. But Waylon has motives of his own and as long-forgotten memories of Isabelle's past resurface, doubt begins to cloud her sleepless nights.

What happened to Mason Drake?
What if the past is better left buried?