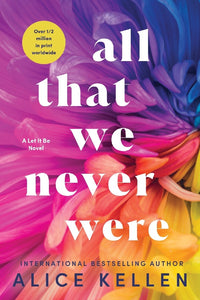 International bestselling author Alice Kellen will flood you in emotion, following two star-crossed lovers whose destiny is inexorably intertwined.

He'll do anything to bring the light back into her eyes.

19-year-old Leah Jones used to love her life. Now, she can barely get out of bed in the morning. Still shaken by the sudden loss of her parents, her 29-year-old older brother is the only person she has left to keep her from falling into an emotional abyss. But as he prepares to move across the country for work, soon he'll be gone too, and Leah will have no one.

Axel Nguyen is her brother's best friend, and the natural person to turn to. Seeing Leah so despondent is a punch to Axel's gut. At her brother's request, Axel drops everything to move Leah in with him, to meet her every need. He's determined to push her to her limits, to break down the walls she's built to protect her fragile heart. Little does he know, she has loved him forever, and now his love for her expands to so much more. As Leah and Axel's undeniable bond grows stronger, Axel must break Leah's heart in order to guarantee her the life he knows she deserves...

Fans of Colleen Hoover, Anna Todd, and B. Celeste will immerse in this thrill of a heartbreaking emotional rollercoaster.